---
Alain Richard
Born in 1926 in Bretagne, Alain Richard could have become a sailor, but his early skills guide him, between painting and architecture, to the National School of Decorative Arts in Paris. Under the direction of René Gabriel, emblematic figure of the aesthetics of reconstruction and spiritual father of a new generation of interior designers, he became major of his promotion ahead of Pierre Guariche to immediately join the agency of his master. But the untimely death of the latter pushed him to found his own agency in 1952 with his wife Jacqueline Iribe, creator of fabrics and specialist in color, with which he will work all his life.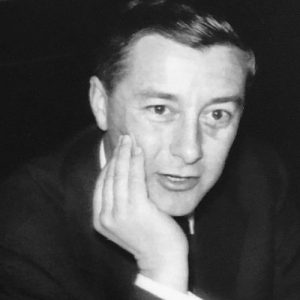 Since then, he has had an exceptional career creating Groupe 4 for Charron, one of the most influential of his time, taking part in major French and international exhibitions and collecting for example the successes of editions for TV mobilier or for the Pierre Disderot Workshops.Public orders flow, including for the National Furniture of which he is one of the most requested contributors, for embassies or for the train. He becomes a specialist in interior design museum.He took care of more than twenty in France and in the world. This huge success led him to found Alain Richard SA agency in 1971 to carry out these large-scale projects.He includes of the leading graphic design agencies in France and will employ up to 40 people.
Alain Richard is without a doubt the most elegant French interior designer of his generation. Pushing the rigor to the highest point, he impose himself among the most modernists and the most radical of them. Its minimal style, purified of all superfluous decor, creates simple shapes perfectly proportioned to the service of a perfect functionality. This radical and scrupulous ethics of form is in every details at the service of an uncompromising elegance that elevates aesthetics to a level of moral value.
This talent and his success offer to Alain Richard the most beautiful awards of his time among which, the grand prize of the Triennale of Milan since 1954, the one of the Universal Exhibition of 1958, several gold medals of the SEAI and the reward René-Gabriel in 1964.He teaches at ENSAD and advises the Ministry of Cultural Affairs.
His friendly relationship with Pierre Disderot is truly intimate both personally and professionally and result to some of the finest French fixtures also to a type of the most innovative aesthetically and technically, as the first French spot at the end of the 50's.
---
WALL LAMPS
5980, A25, A25-190
TABLE LAMP A21 AND A22, FLOOR LAMP A23
WALL LAMPS/POTENCIES A24-1500, A24-2200
& SUSPENSION A26