---
JOSEPH-ANDRÉ MOTTE
Joseph-André Motte was born in 1925 in the Hautes-Alpes but it was in Paris at the School of Applied Arts to Industry that he studied under the direction of Louis Sognot and Rene Gabriel, two of the great masters of French modernity.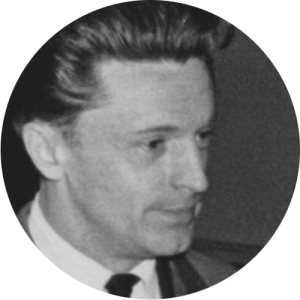 Joseph-André Motte
1925-2013
He graduated from his class in 1948 and in 1952 he joined the studio of the third French master, Marcel Gascoin. It is there that he meets Pierre Guariche and Michel Mortier with whom he develops a friendship and a deep professional complicity. Together they created the Atelier de Recherche Plastique (ARP) in 1954 to present French manufacturers a practical, comfortable, modern furniture at a reasonable price.
Joseph-André Motte developed then a very prestigious career that made him one of the most important leaders of contemporary creation during the second half of the twentieth century. He is radically reviewing traditional materials such as rattan, rethinking the design of French apartments after the war and creating a range of revolutionary seats for Steiner. He first imagines a folding chair to be delivered disassembled cardboard, a seat all metal tube covered with a molded foam and a removable cover or an exceptional range of furniture all stainless steel.
If this great agency manager is probably the one who created the most models for French design, his career has also been crowned by many prestigious orders. Joseph-André Motte, in fact, arranges most of the major French airports, is mandated to remake more than one hundred metro stations (it remains the Motte style with its seats and lights that still equip many stations today) and is often called to collaborate with the National Furniture for the furnishing of the national palaces.
He gets almost all the possible rewards for a designer in his day, until he is promoted to the rank of Commander of Arts and Letters. His great capacity for formal invention is often copied, his sober and daring style is emblematic of the French creation of the twentieth century. His rigor and his requirement are recognized throughout his career to the point of teaching in the best schools and running the Salon des Artistes Décorateurs. He designed two sets of fixtures for the Pierre Disderot Workshops, one in white glass in a very Japanese spirit, the other in plexiglass sheets folded and stretched between brass rods.
They reveal both the great concern for the quality of light dear to these functional creators but also the particular care that Joseph-André Motte has spent all his life in detail, materials and the search for the perfect proportion.